---
---
Santa Special. 18th December 2010
Wallasey 78 was on special duty, transporting parents and children to Father Christmas's Grotto at Taylor Street Depot.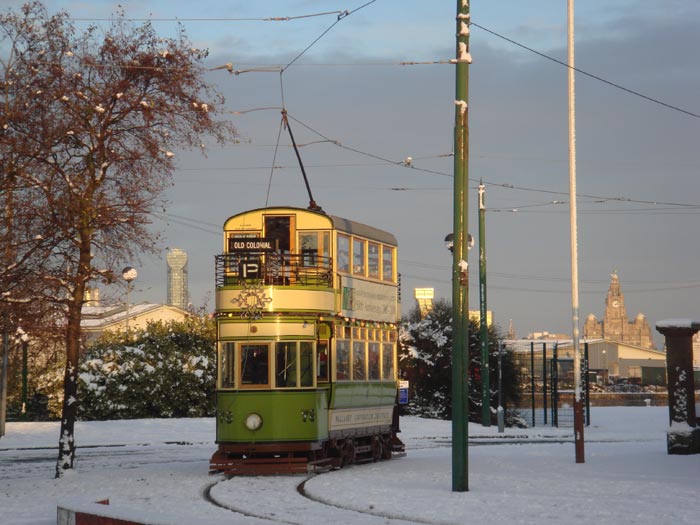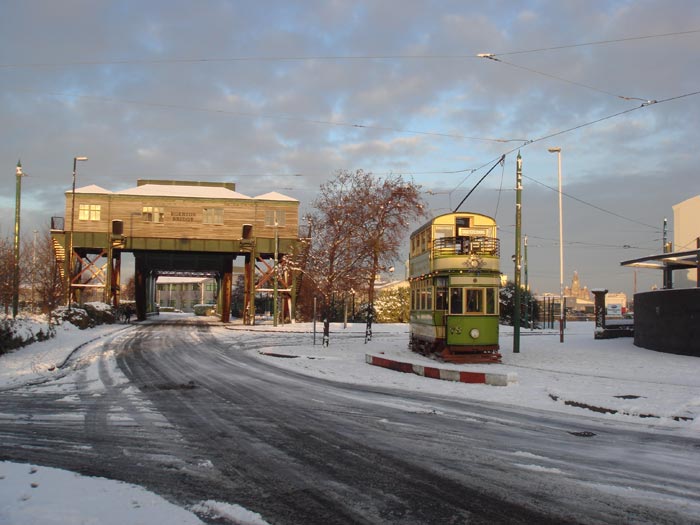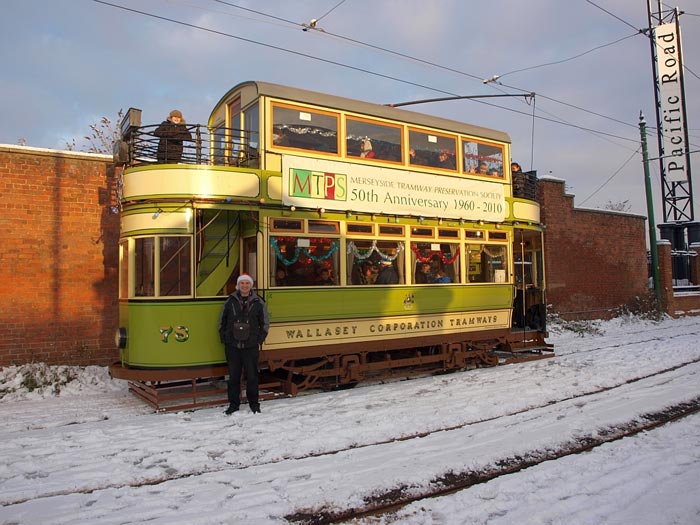 A tram full of excited children on the way to see Father Christmas. Society member David Corey is the conductor for the afternoon.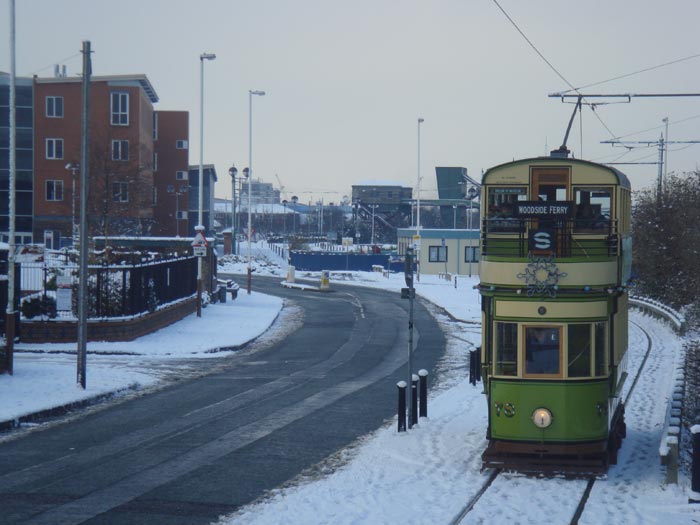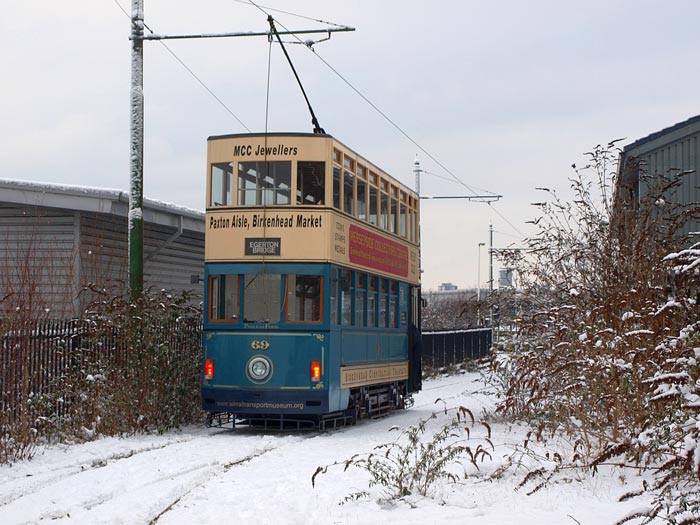 Hong Kong 69 worked all afternoon as the normal service car.
Blackpool Trams 125th Anniversary weekend. 25th and 26th September 2010
Liverpool 762 played a big part in the festivities and was admired by thousands of enthusiasts and general public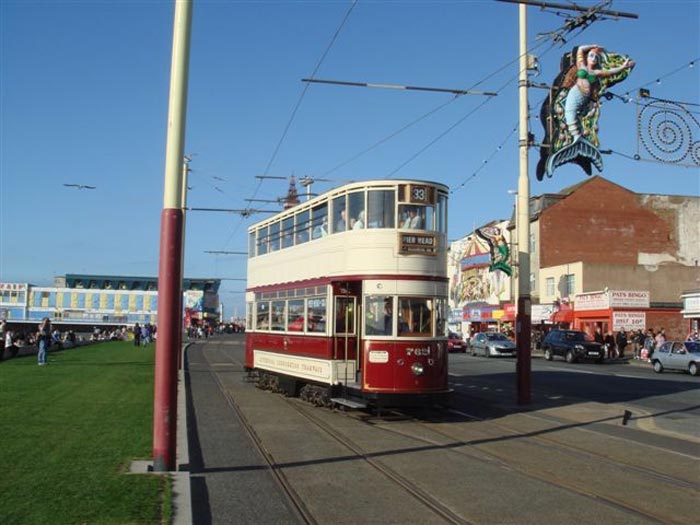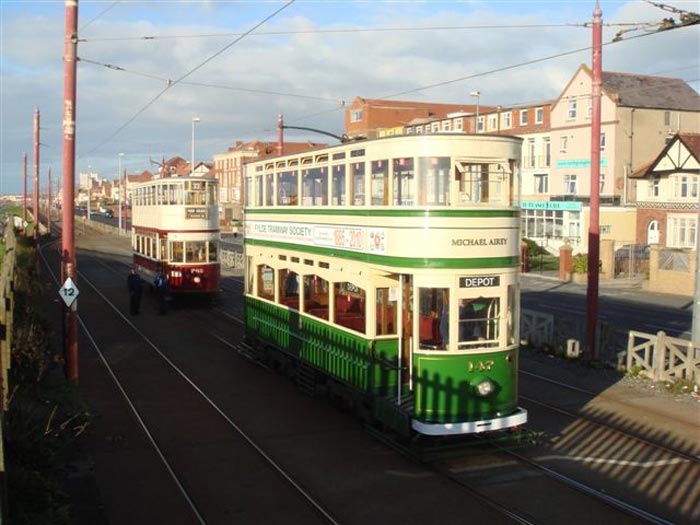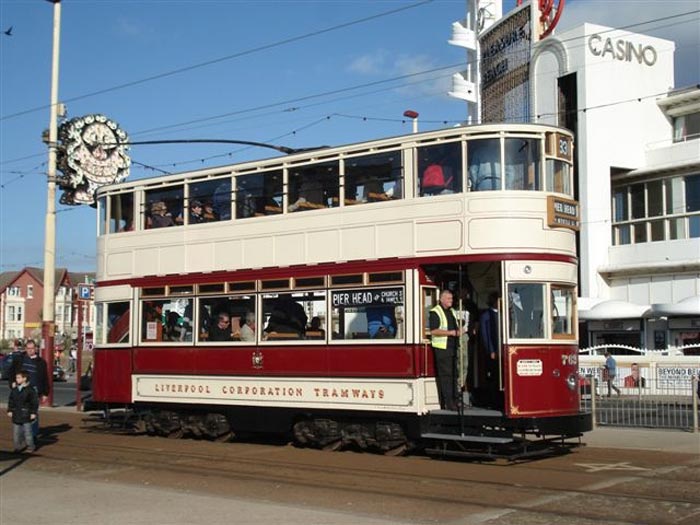 Liverpool 762 breaks a record . 18th September 2010.
762 became the first Liverpool tram car to travel along Blackpool's Golden Mile in passenger carrying mode.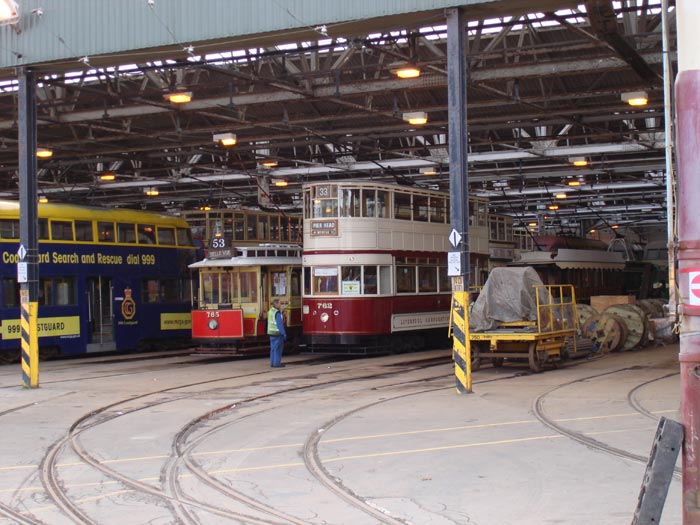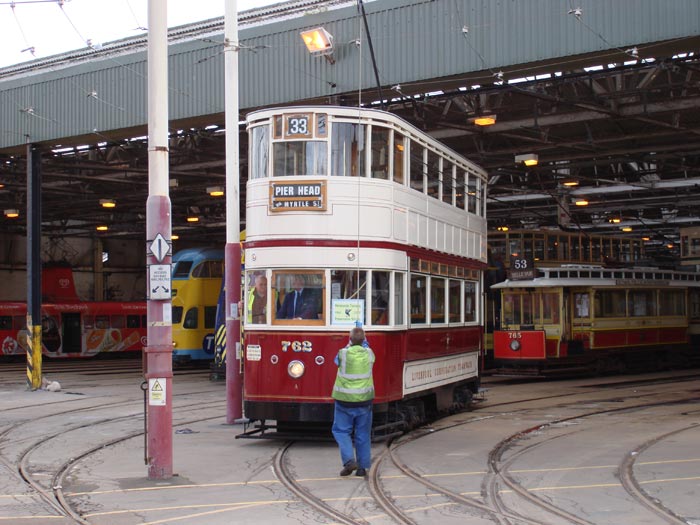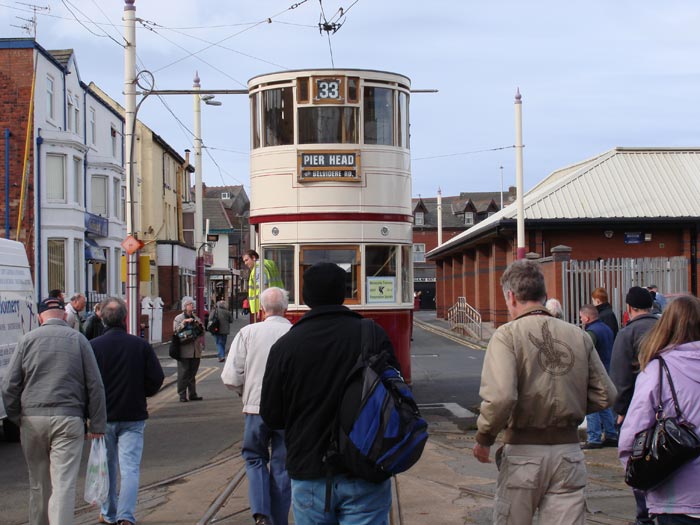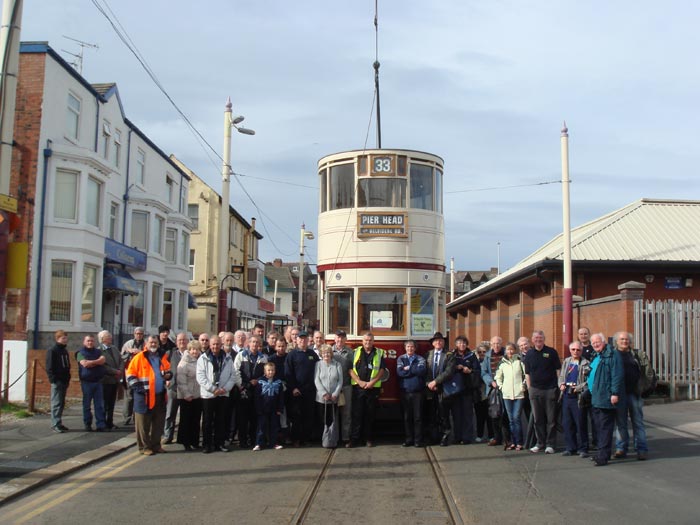 Above: A group gathering of MTPS members with 762 before the start of the tour.
Below: A selection of photos of the day's tour.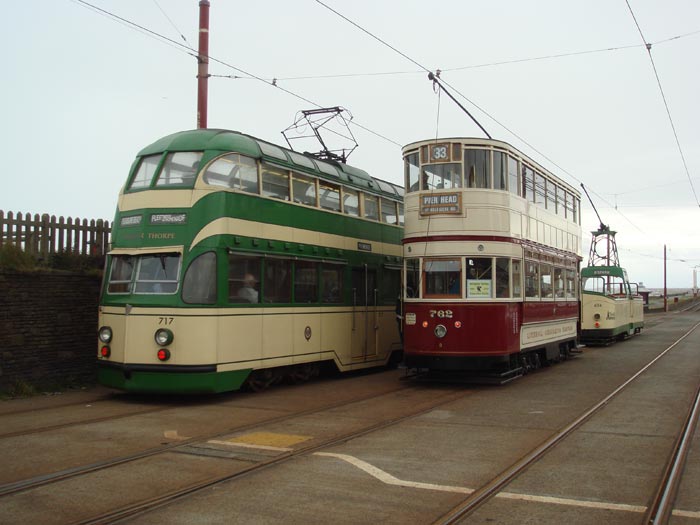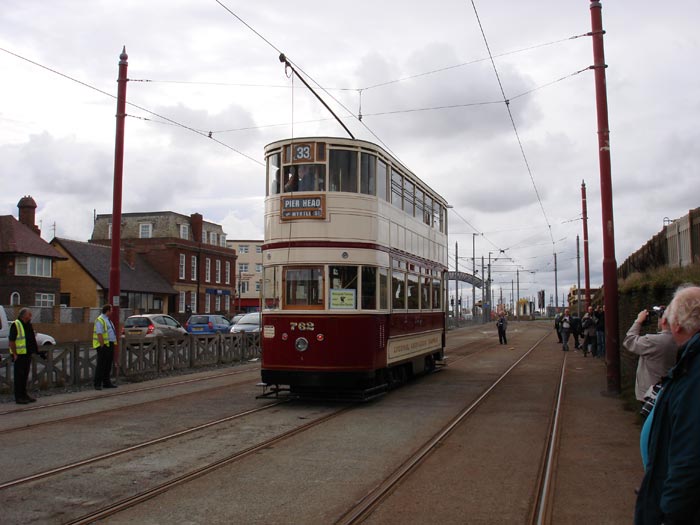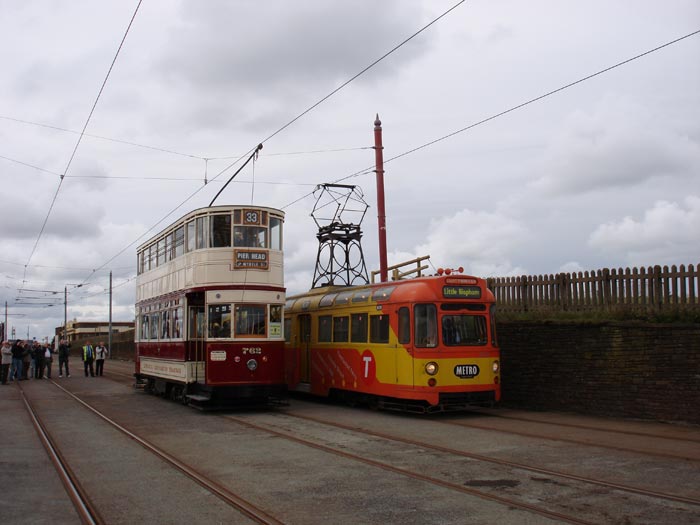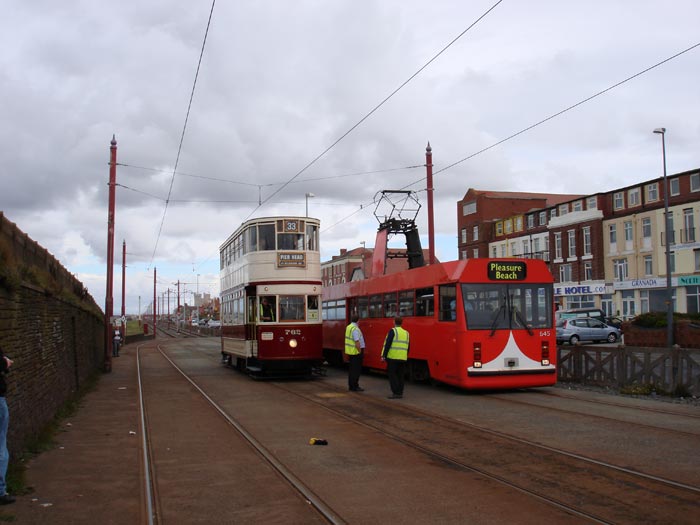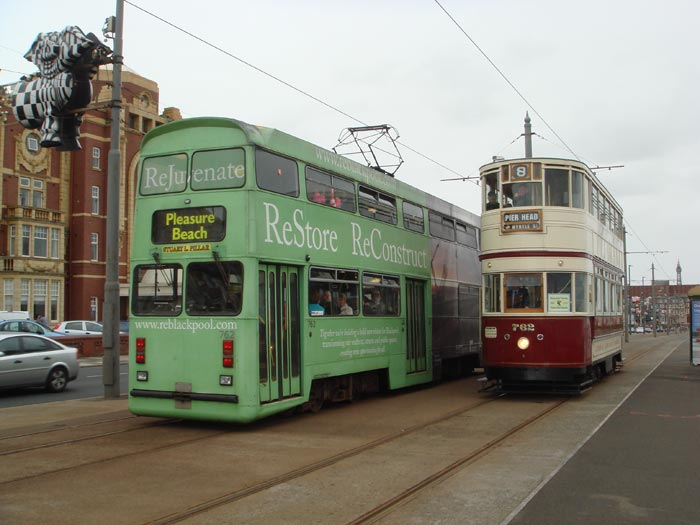 Above: Liverpool 762 meets Blackpool 762 on the Prom.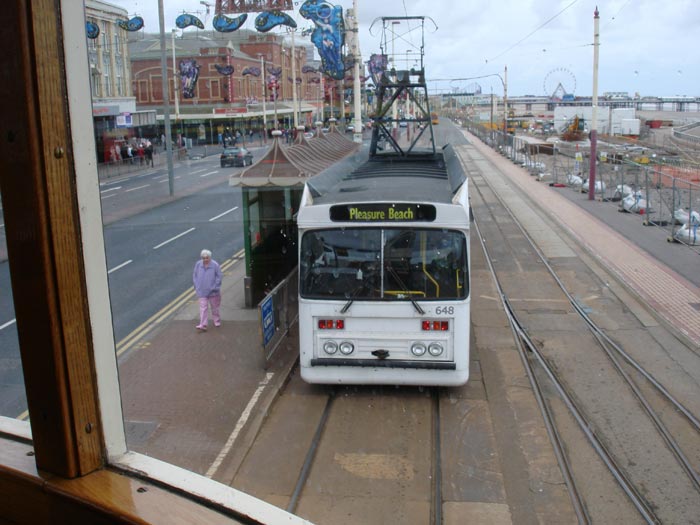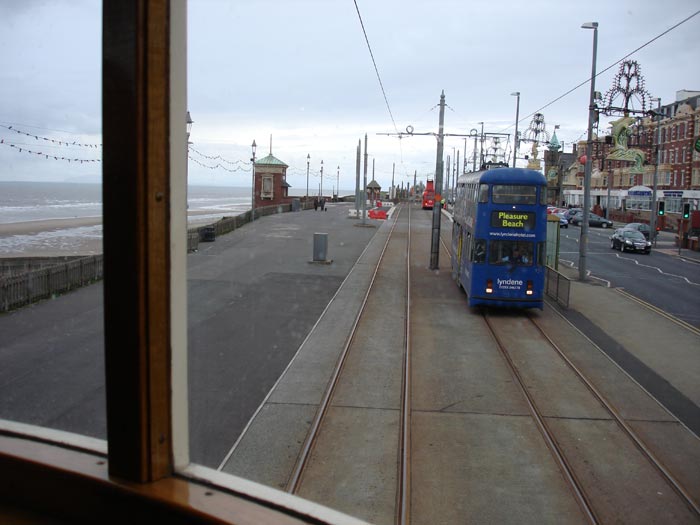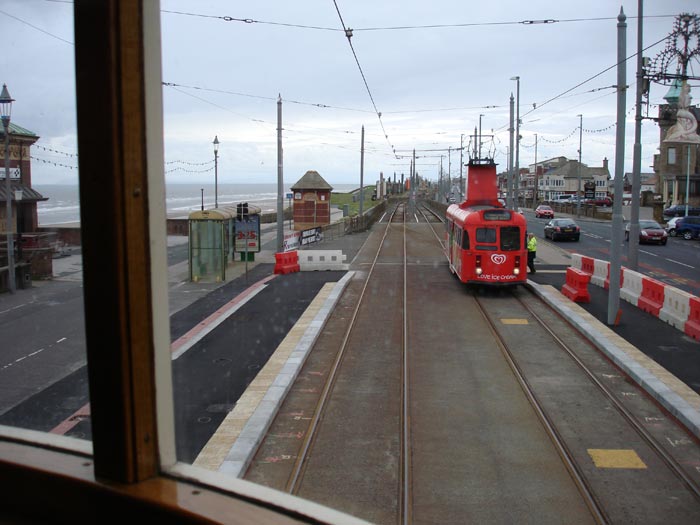 Above: New platforms for the second generation tram cars under construction.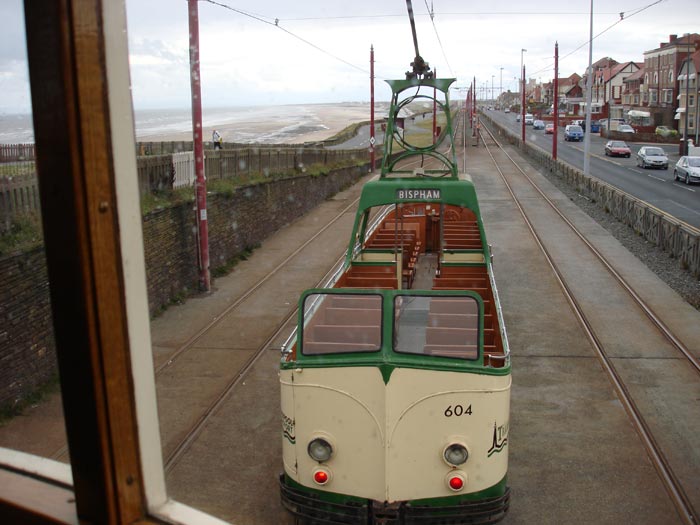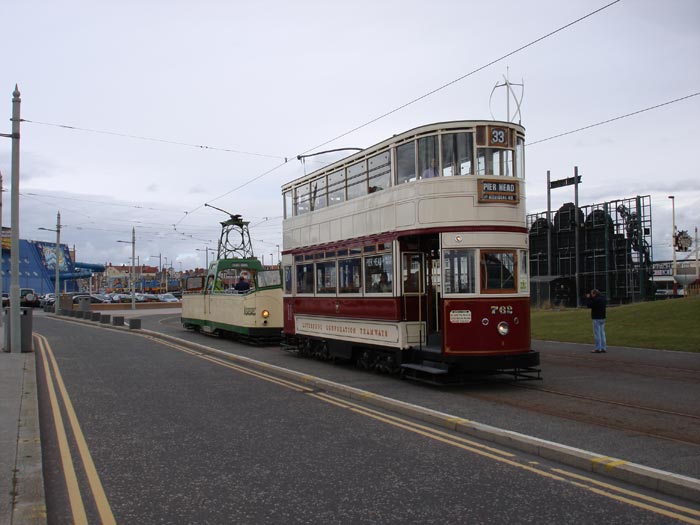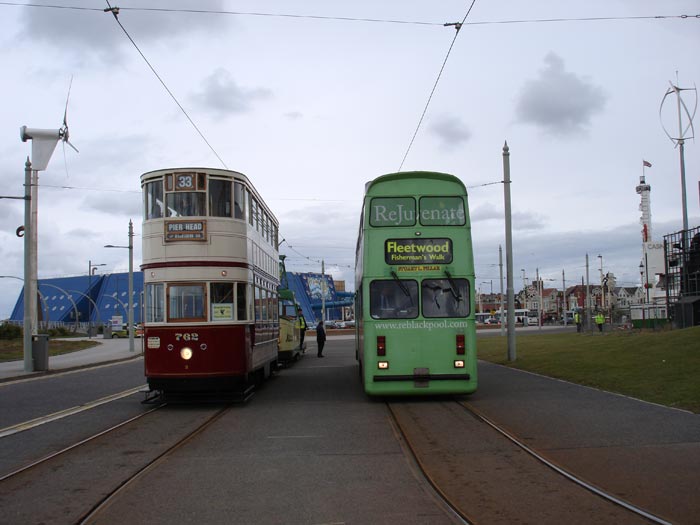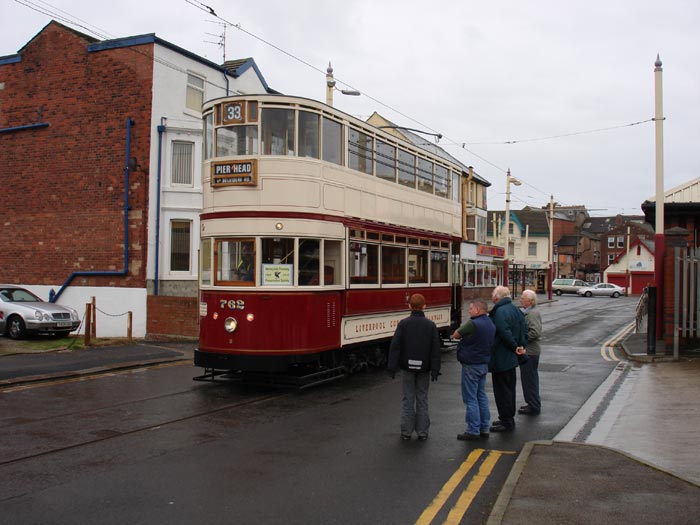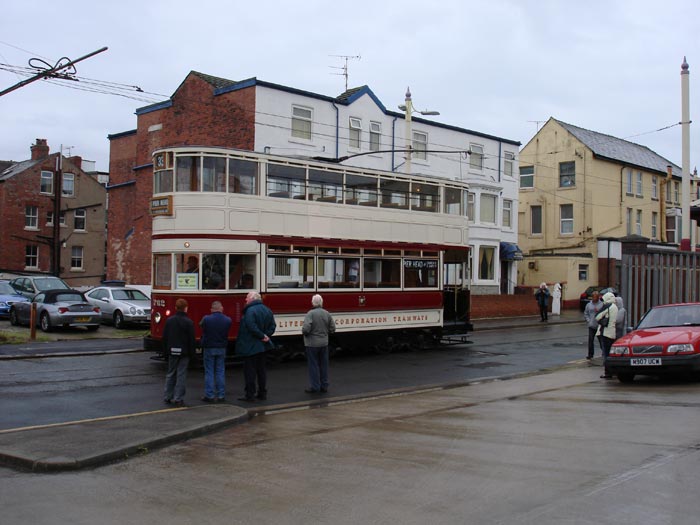 Taylor Street Depot. 28th August 2010.
Four 762 stands ready for her journey to Blackpool, to celebrate 125 years of street tramway in Blackpool. In the meantime, work on the Liverpool Baby Grand 245 proceeds at a steady pace.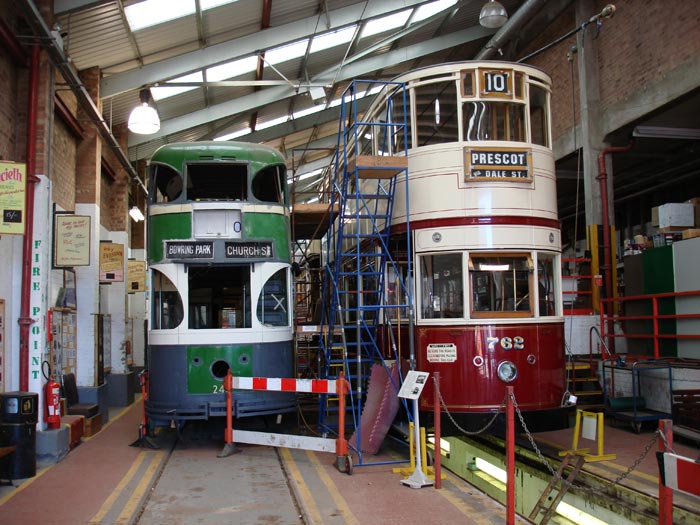 On Saturday 28th August 2010, at 1.00pm, the Transport Trust with the help of the MTPS and Wirral Council conferred one of its coveted 'Red Wheel' plaques on 1. Price Street, Birkenhead, for it was on the 30th August 1860 that the first modern tramway in Britain was opened along a short route from Woodside Ferry to Birkenhead Park. Today's modern tramway owes its origins to George Francis Train who brought the idea over from America in 1860. Today, a heritage tramway operates in Birkenhead, part of it on the original 1860 route.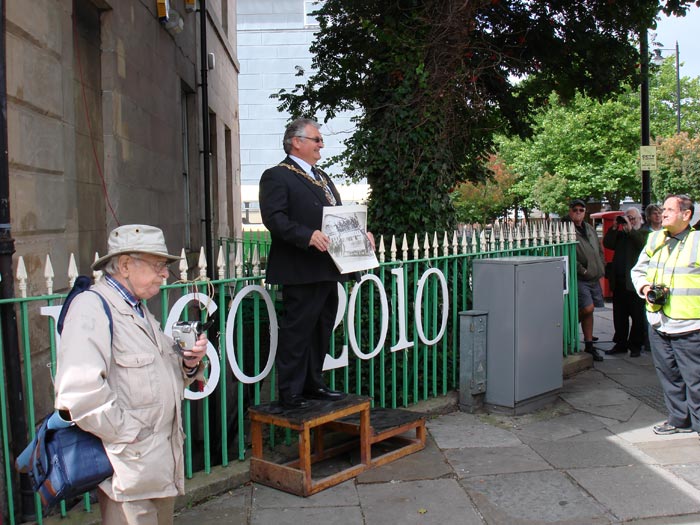 The Lord Mayor of Wirral, Mr Alan Jenkins.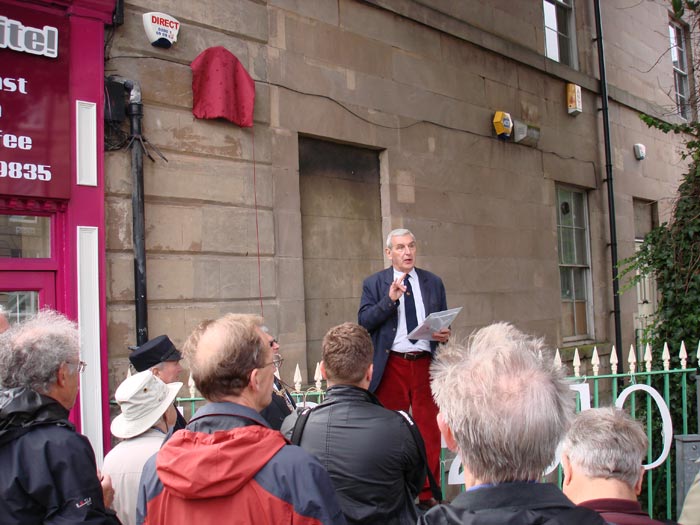 The speech by Paul Ogden of the Transport Trust.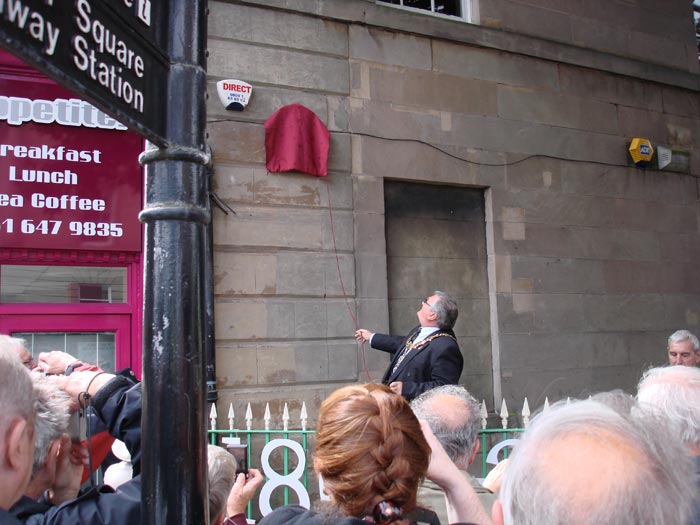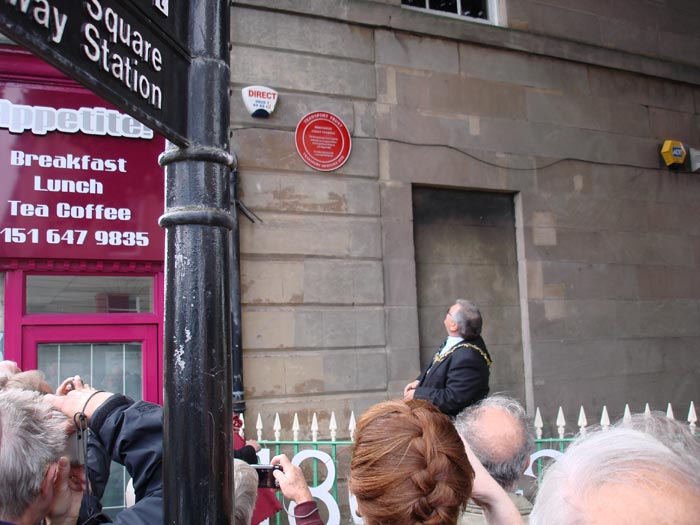 The Lord Mayor unveils the red plaque.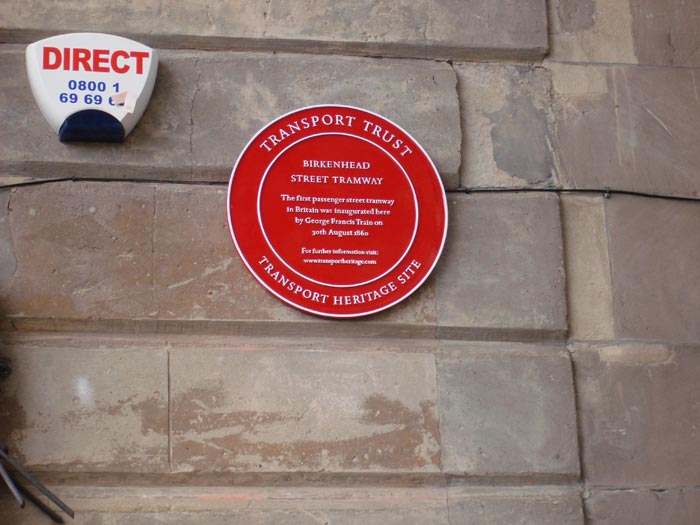 The Red Wheel Plaque.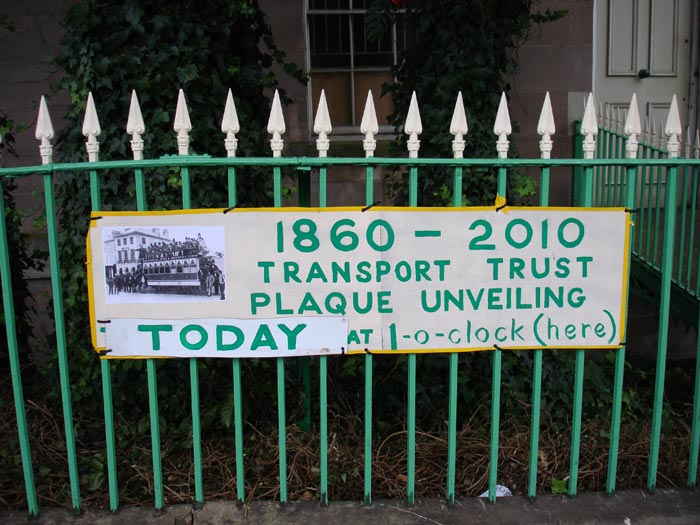 The event notice board.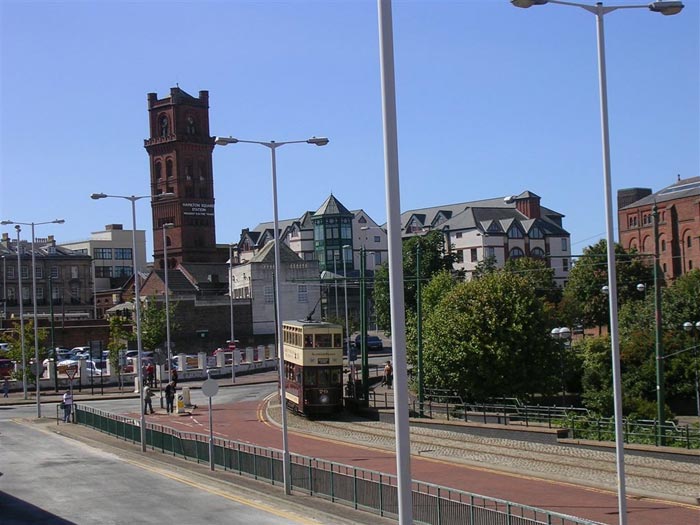 The Heritage Tramway today.
Trams Out Day. Monday, 30th August 2010.
A fine sunny Bank Holiday with a two tram service, using Hong Kong No.69 and Lisbon 730.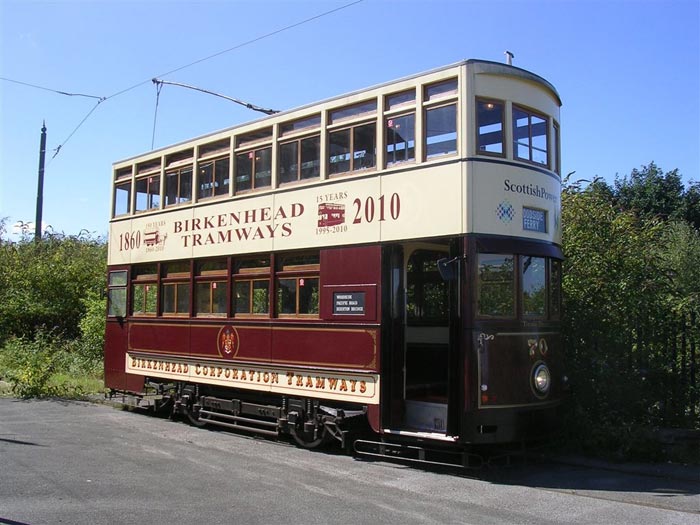 Hong Kong tram Birkenhead 70 awaiting driver and conductor.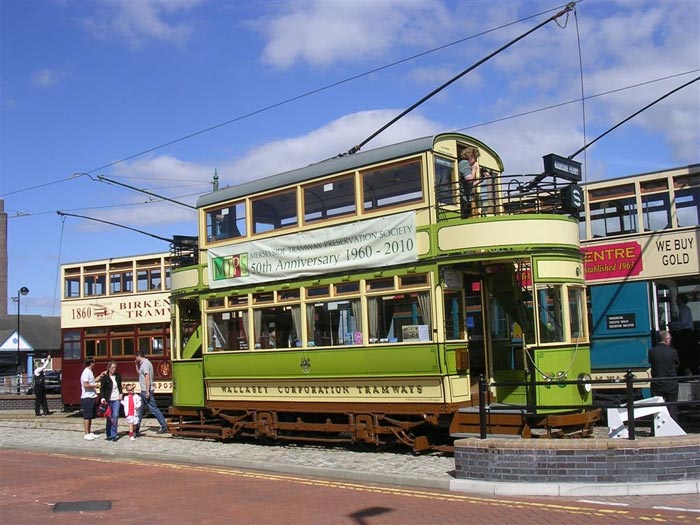 Trams 78, 69 and 70 at Woodside Ferry.
Trams LUPTS and MTPS visit to Crich. Saturday 4th September 2010.
This year the MTPS celebrates its 50th anniversary. The society was established in 1960 by students from Liverpool University (LUPTS), who wanted to save one of the famous Liverpool Green Goddess tram cars. Since then the Society has expanded and has been involved in more than a dozen restoration projects.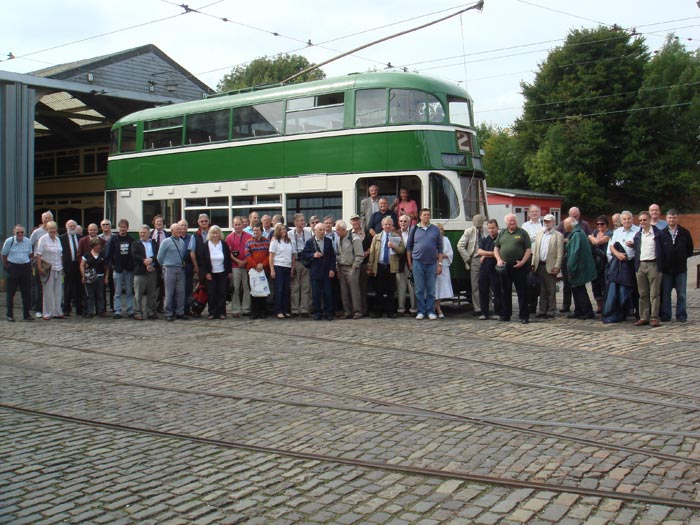 LUPTS and the MTPS members assembled for a group picture with the famous Liverpool Green Goddess no. 869.
762 visits Blackpool. Monday 6th September 2010.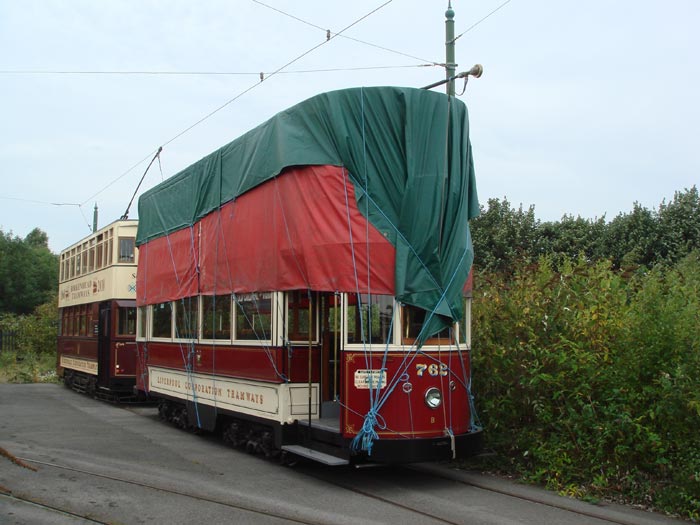 Waiting at Taylor Street to be loaded on the Transporter.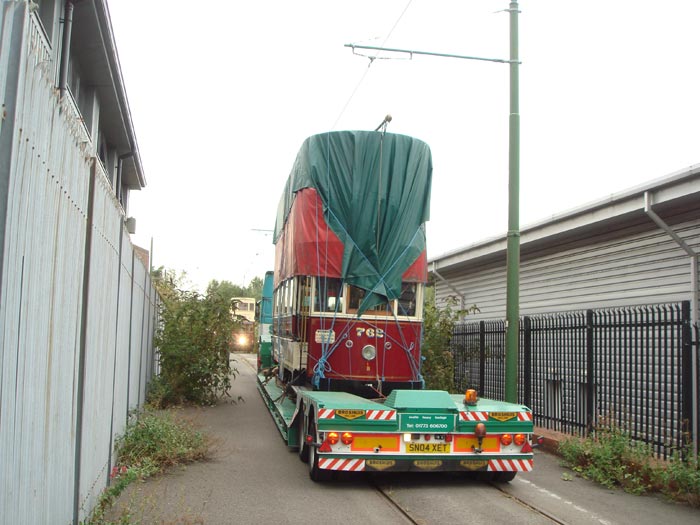 Loaded on the trailer, ready to be reversed into Canning Street.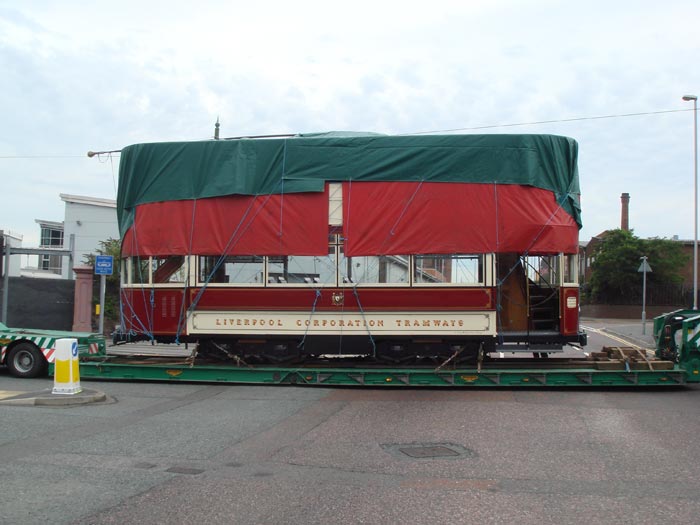 Crossing Canning Street traffic lights.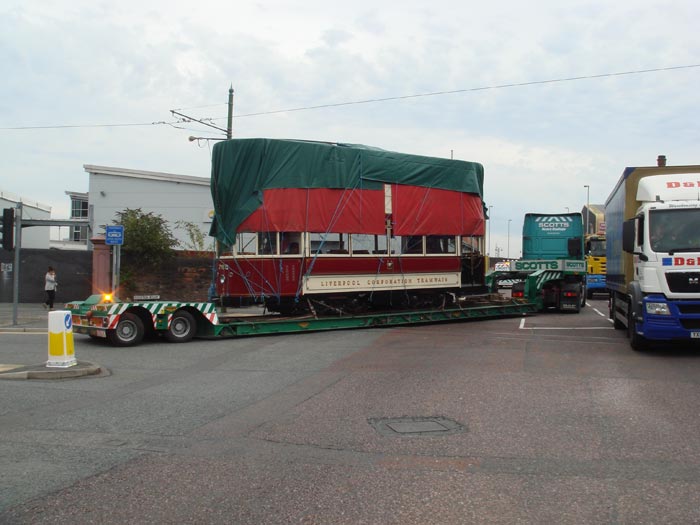 On its way to Blackpool with Scott's Transport.
762 arrives at Blackpool. Tuesday 7th September 2010.
Arrives with Scott's Transport.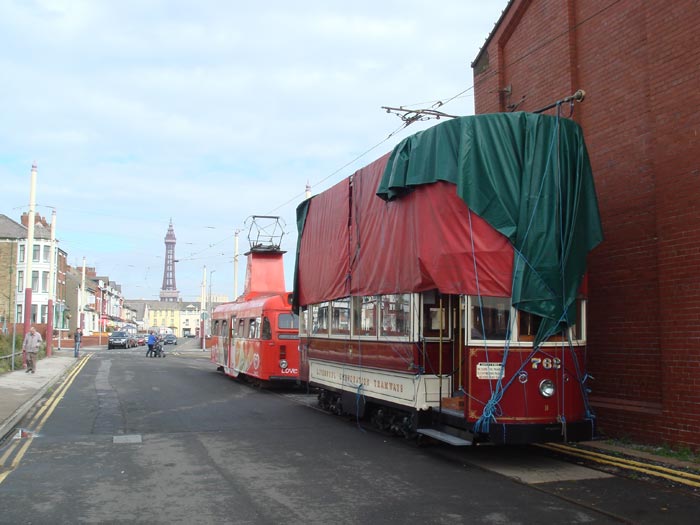 On tow to Blundell Street depot.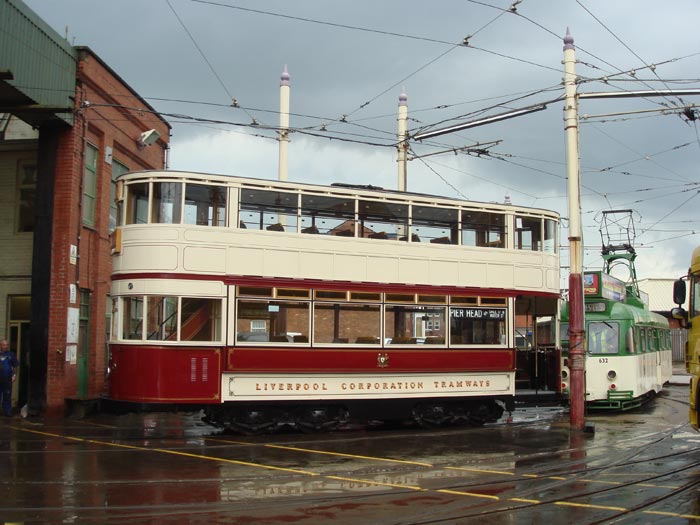 Shunted into depot by Blackpool Rail Coach.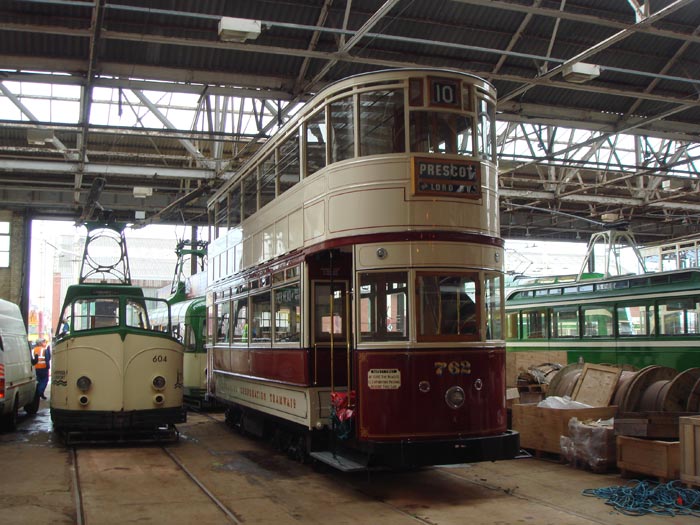 Blackpool Transport Rigby Road Depot., with Boat Car 604 (left) and Pantagraph Car 167 from Crich (right).
Visitors from the New Jersey Transport Heritage Centre USA
Four enthusiasts from the States, Bill McKelvey, Joe Burkhimer, Bruce Russell and Tom Bradt paid a visit to Taylor St on Thursday 8th August. They are pictured here with Wallasey 78 and committee members Mike Mercer, Keith Carmichael and Bob Sanders.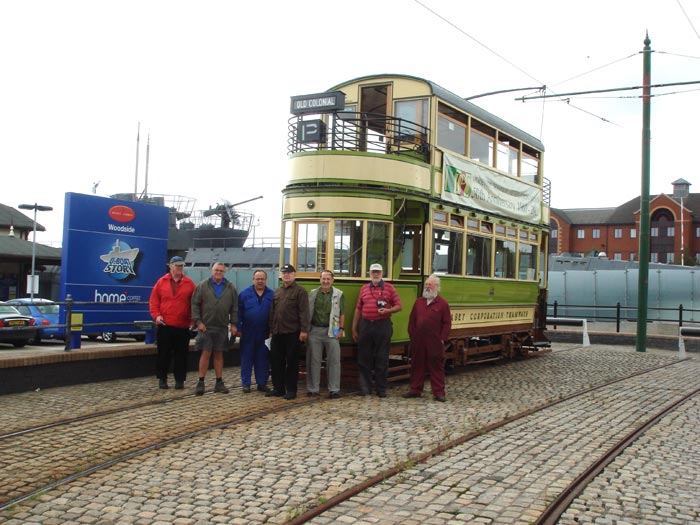 Birkenhead No.20 bumper refurbishment completed
Overriders have been fabricated and re-fitted to both ends of the car.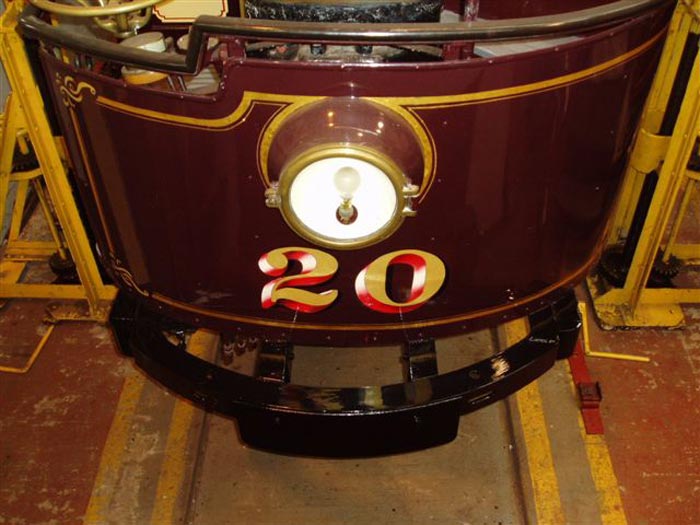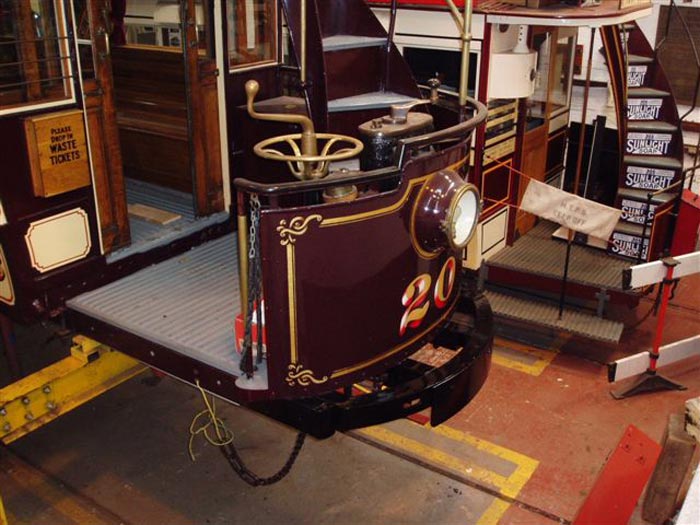 Fabrication of the new canopy for B End is now underway. The car has been turned around to allow adequate working space for the next phases of the restoration.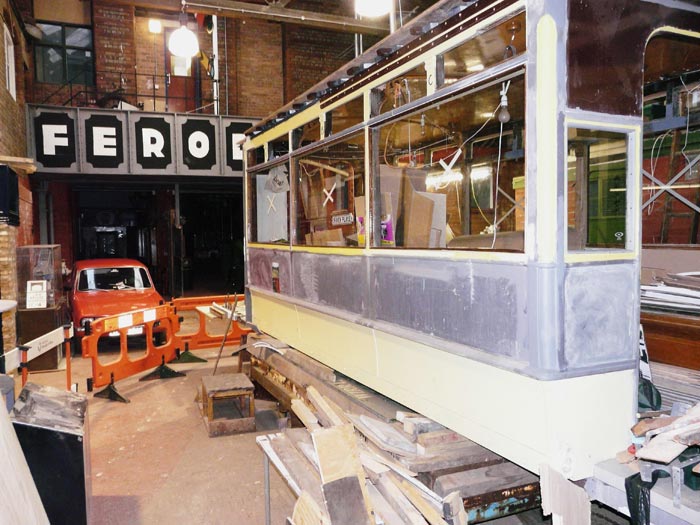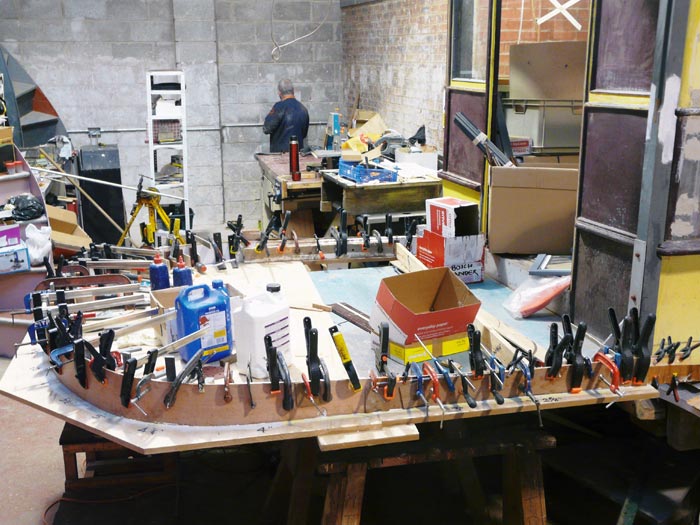 Birkenhead No.20 in preparation for the 50th Anniversary of the MTPS.
MTPS banners have recently been commissioned to decorate the sides of Birkenhead No.20. These banners highlight the Society's 50th Anniversary in 2010 and will remain on the tram until the end of the year. Many thanks to Elite Industrial Supplies of St Helens for a fantastic print job and wonderful service.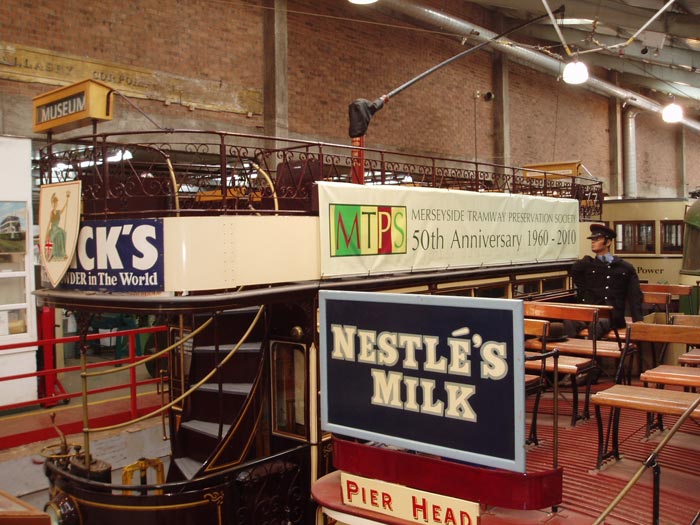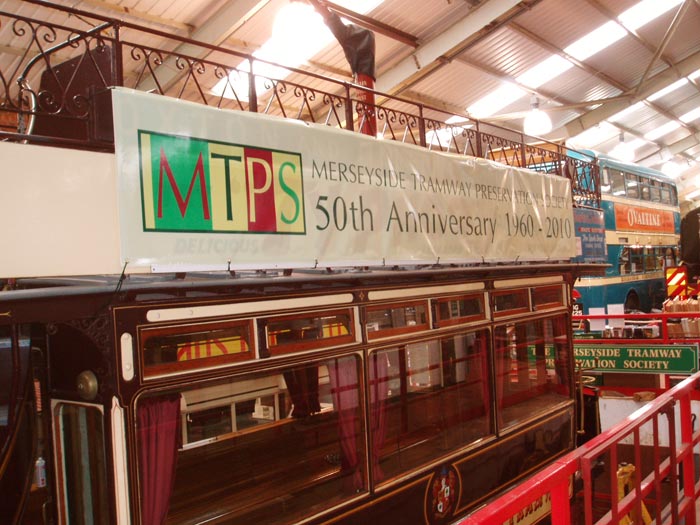 Birkenhead No.20 Progress.
MTPS member Mike Mercer has re-profiled the front fender of Birkenhead 20. This is now as per the original specifications. Other jobs remain in progress and must be completed before the tram can be lowered back onto its truck.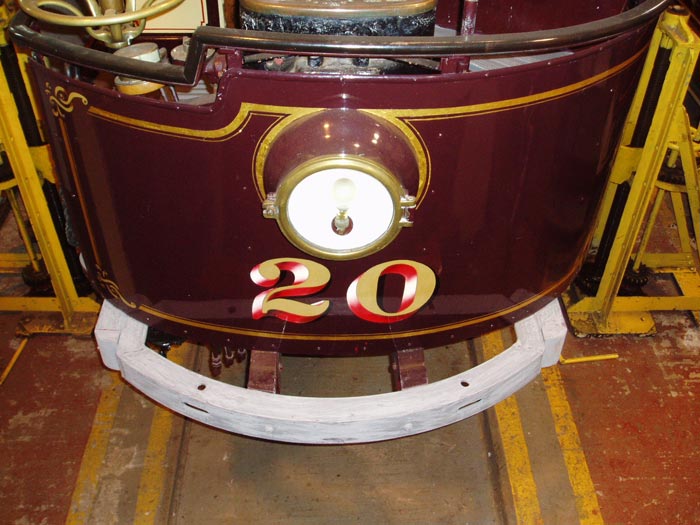 The tram has now been lifted off its truck, in preparation for the fitting of its new set of wheels.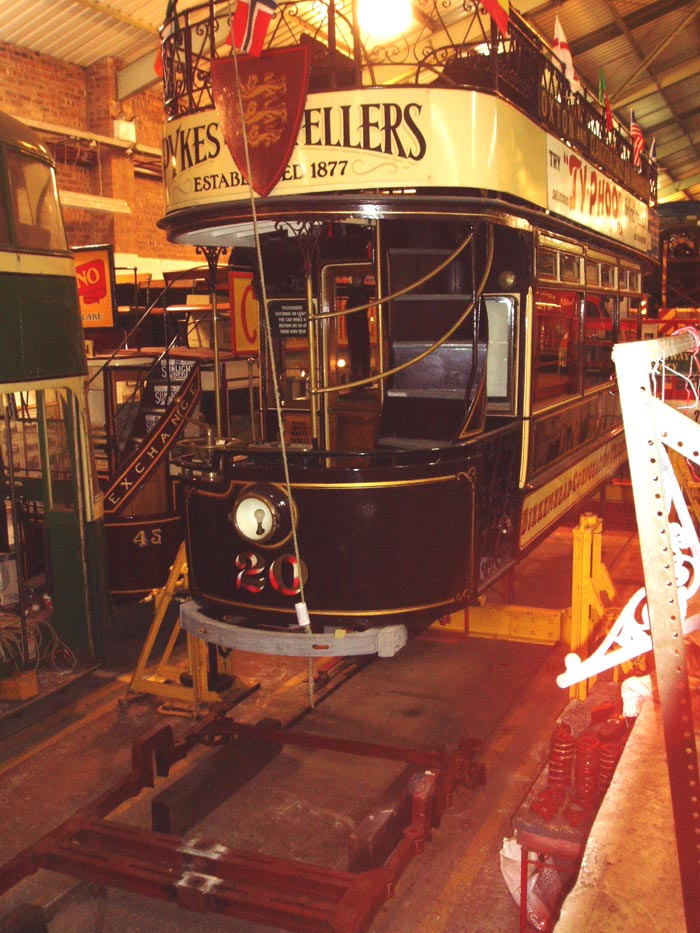 Warrington No.2 Progress.
Most of the windows have now been fitted in the driver's vestibule. New windows have also been fitted on one side of the lower saloon. Windows have been missing for so many years now that we've marked them all with an X to avoid misunderstandings and, more importantly, accidents!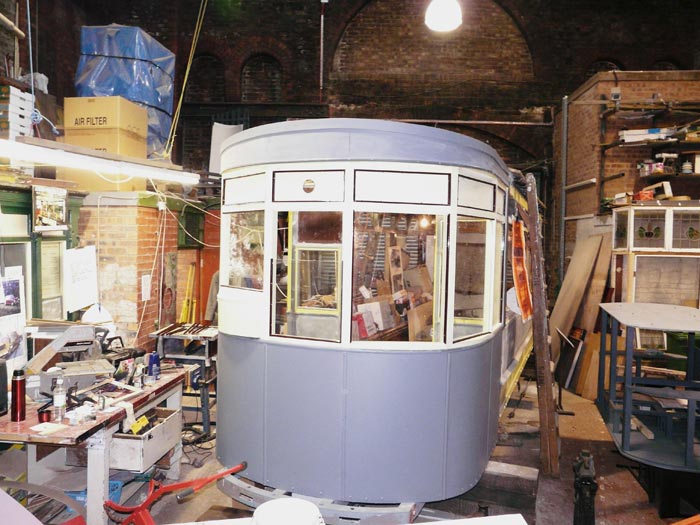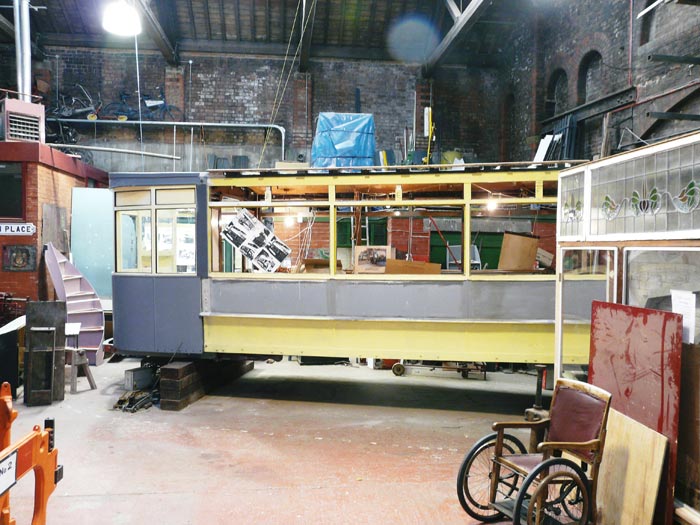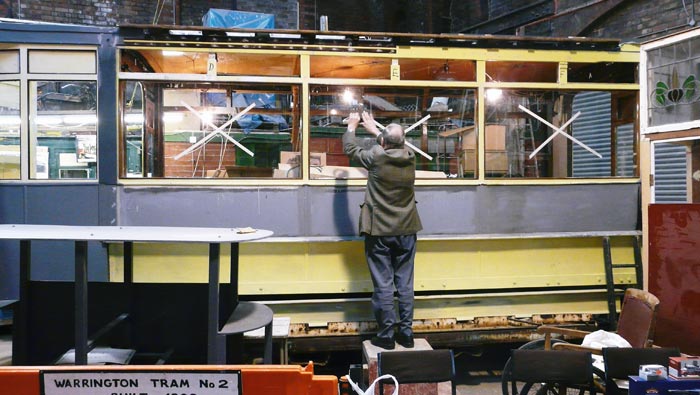 Liverpool Baby Grand 245 Progress.
Chairman, Terry Martin installing a trim on the upper deck front windows of 245. More news and pictures to follow.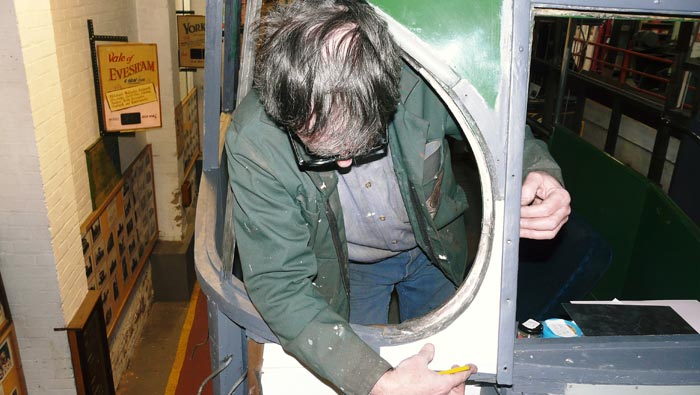 Winter weather disrupts Heritage Tramway.
2010 got off to a bad start with adverse weather conditions preventing the running of a normal service. As you can see from the photos, the track for the most part was invisible, let alone traversible. For the best part of two weeks, the track lay submerged beneath solid ice and the trams stayed firmly in the depot.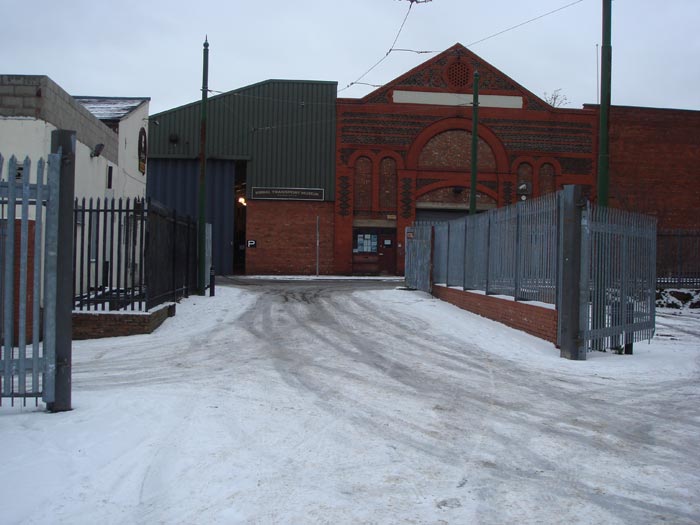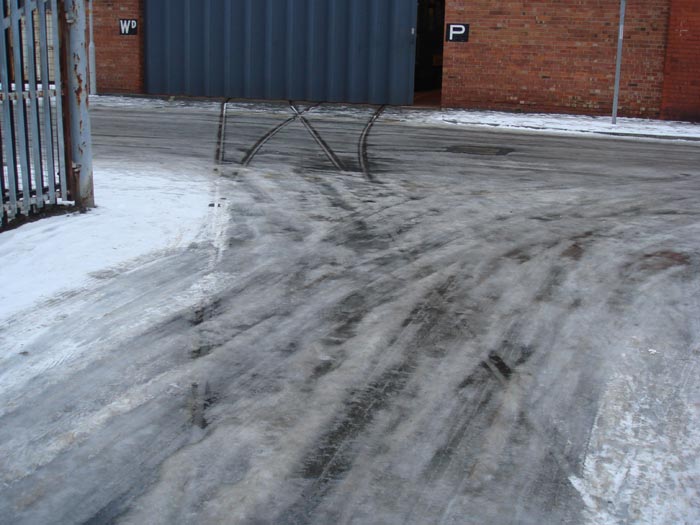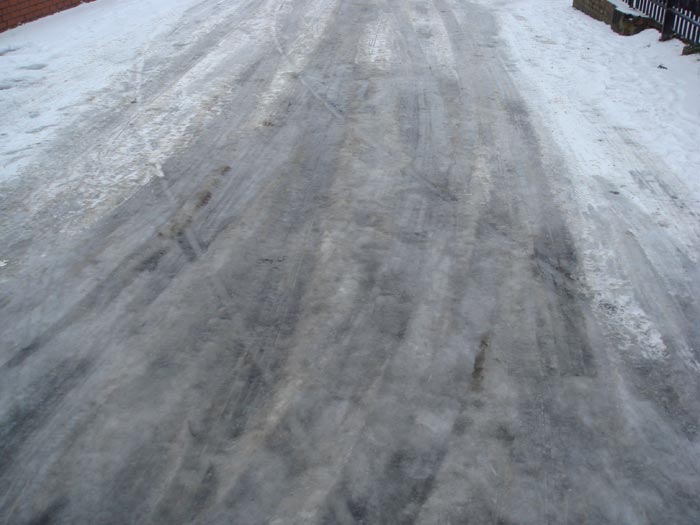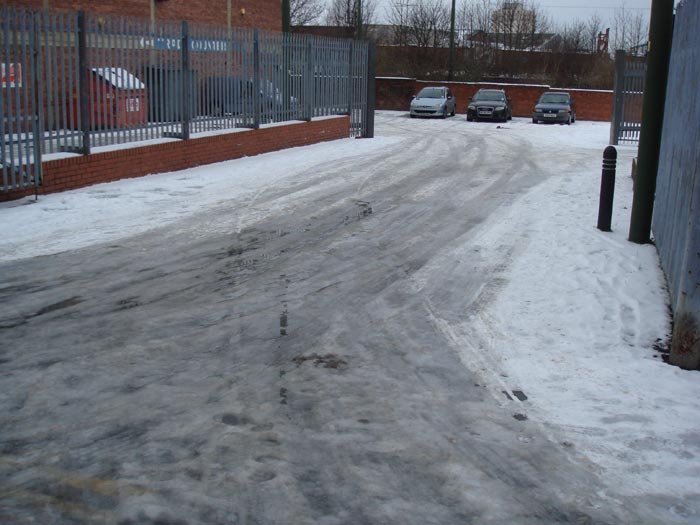 ---
---