Tramway Managers


visitors since 21st July 2005
Archive 2015
Santa Special

Saturday 19th December saw the most successful Santa Special so far. For the first time all Santa Special tickets were sold solely through facebook, which proved to be a resounding success. All available seats were sold out in under a week. With Birkenhead 20 dressed as Santa's grotto and Liverpool 245 carrying all our guests from Woodside to meet Santa the museum was crowded with Parents and children enjoying the refreshments and taking part in our quiz to find the names of European cities that have tramways. We even had a visit from Frozen stars Elsa and Olaf.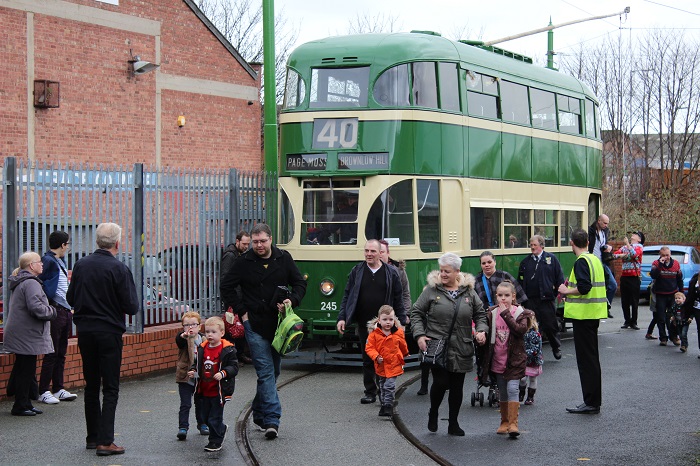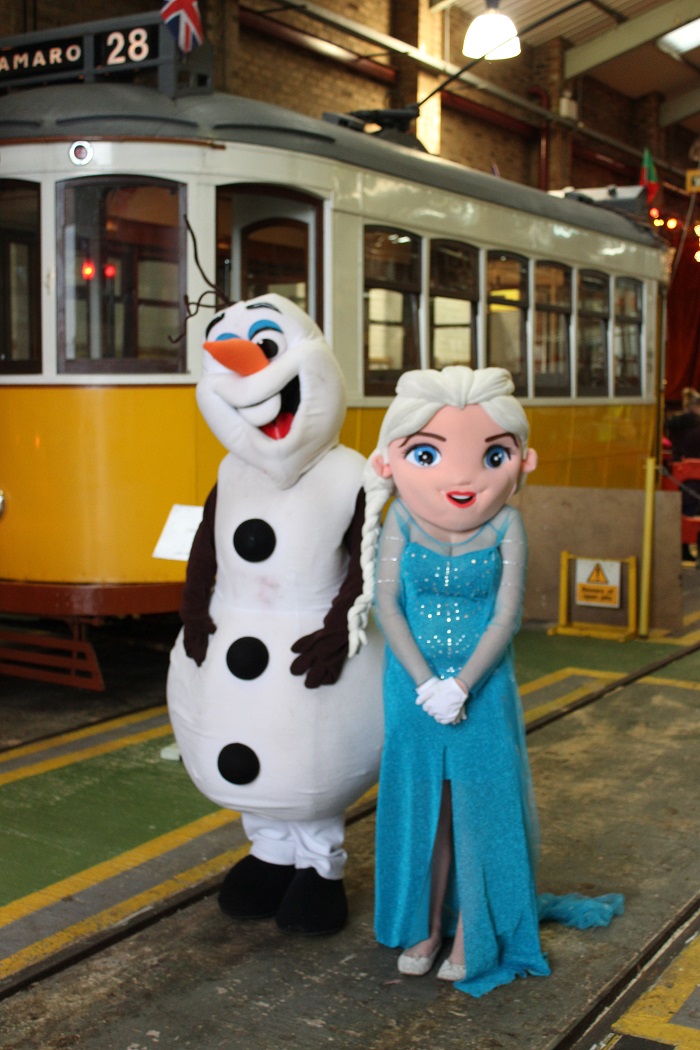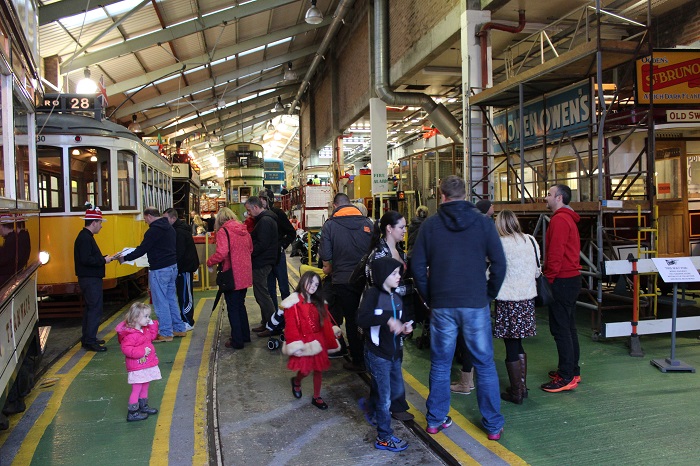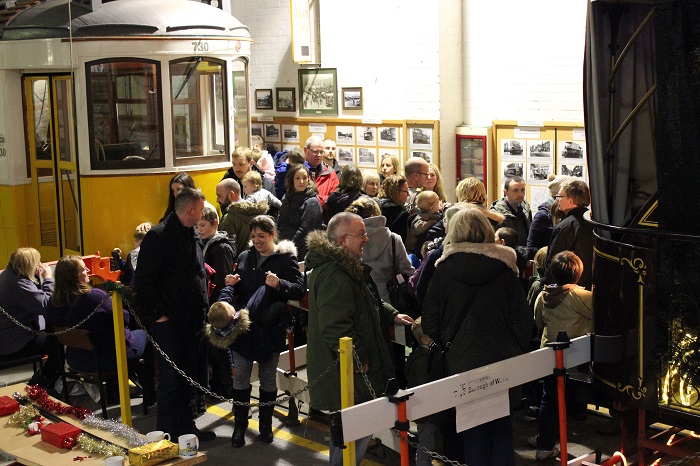 A Night At the Museum
Friday 13th November saw the first evening event held at Wirral Transport Museum, "A Night at The Museum". A four car service was in operation throughout the evening which carried over 300 passengers on a very successful evening. Passengers were able to thoroughly enjoy riding the trams in the dark for the first time. Many photographers were out and about to record our inaugural evening event which saw the Taylor Street building lit up with multi coloured lights and atmospheric smoke. The evening was deemed a great success and is to be repeated in early 2016.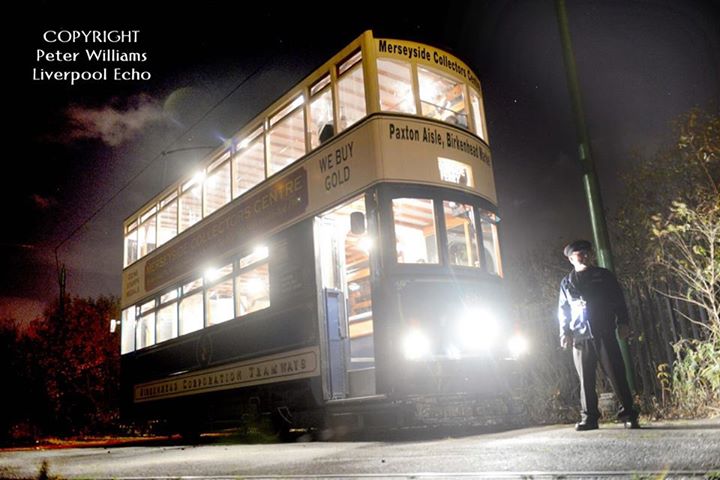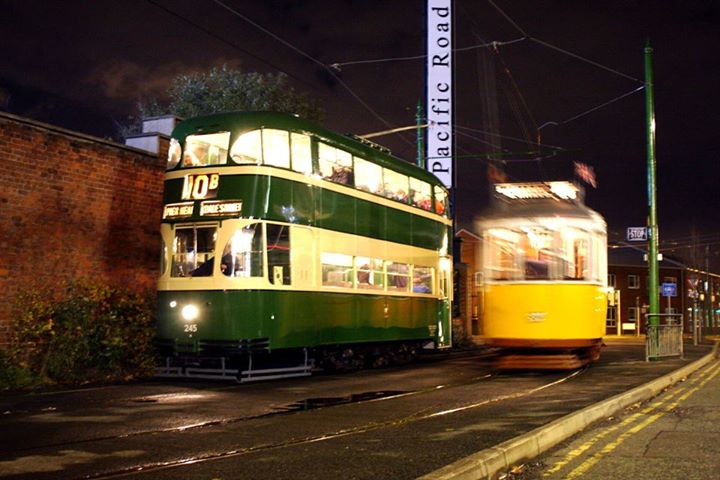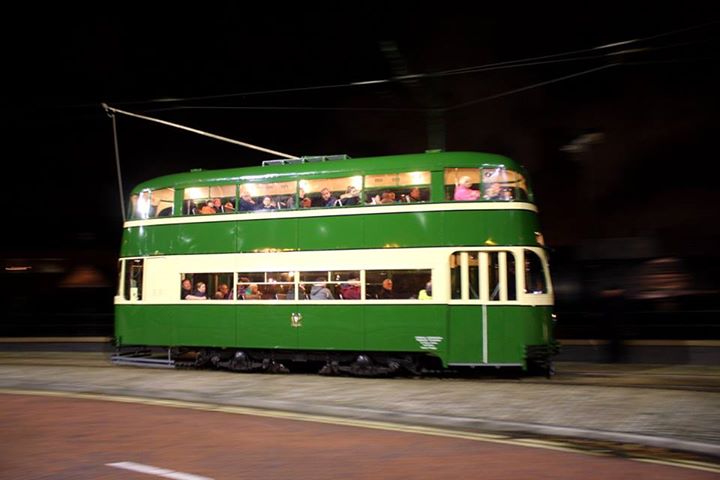 Calendar Girls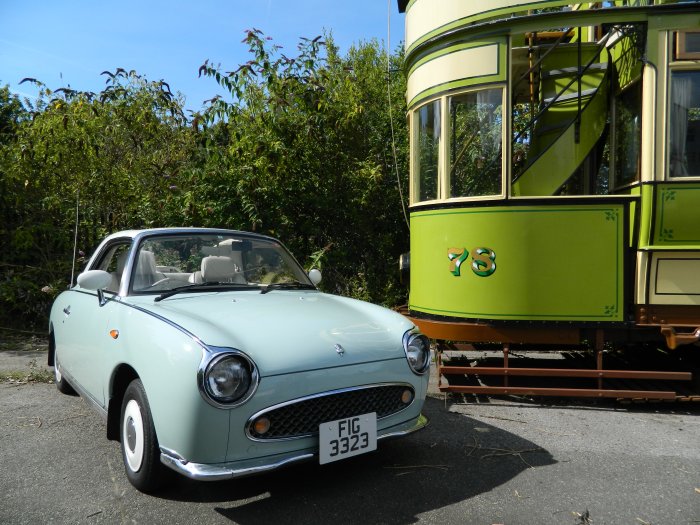 Wallasey 78 is to appear alongside Miss June in the Nissan Figaro Owners Club Calendar. The Car is owned by MTPS member, Conductor and Thursday night volunteer Dave Corey
18th Wirral Bus& Tram Show
The weather was kind with lots of sunshine as the Wirral Bus and Tram Show took place at Wirral Transport Museum & Heritage Tramway. The whole show was very busy with thousands of people out and about along the tramway. The sales stands at Taylor Street museum were very busy through the day. Pacific Road car park contained displays of classic buses, new buses and classic lorries. Woodside had classic cars, the Wirral Wobblies moped display and there were military vehicles both at woodside and Lord Street at the back of the museum. The trams carried full loads of passengers throughout the day.The heritage buses were taking passengers on trips for free.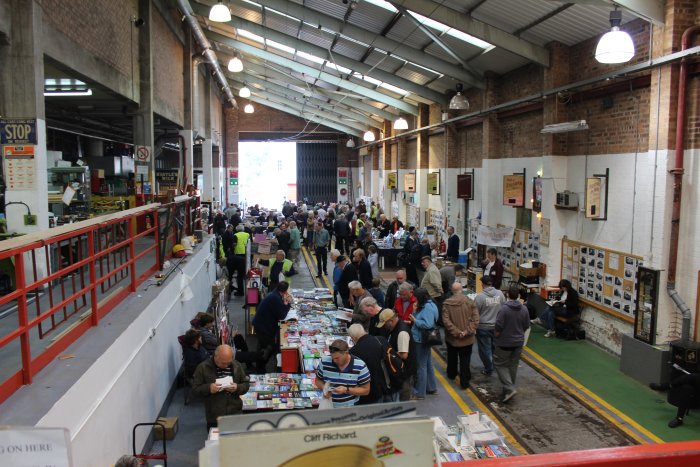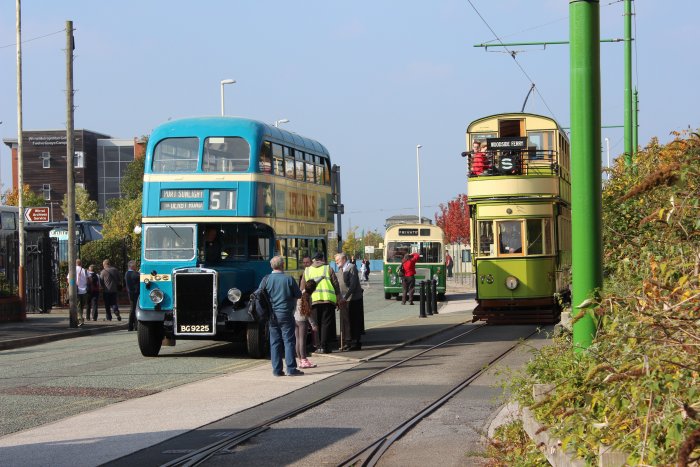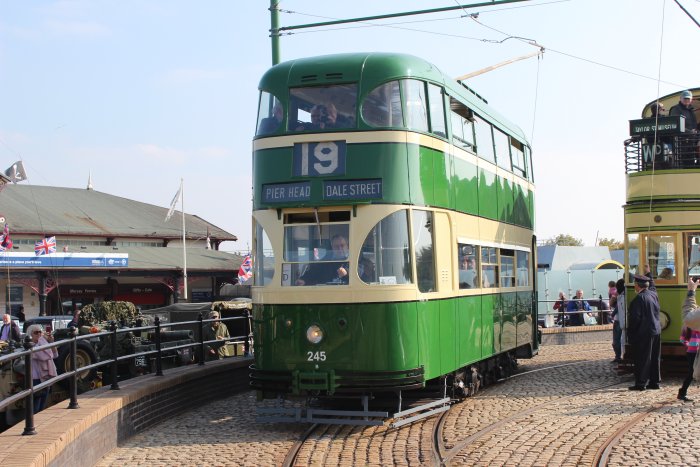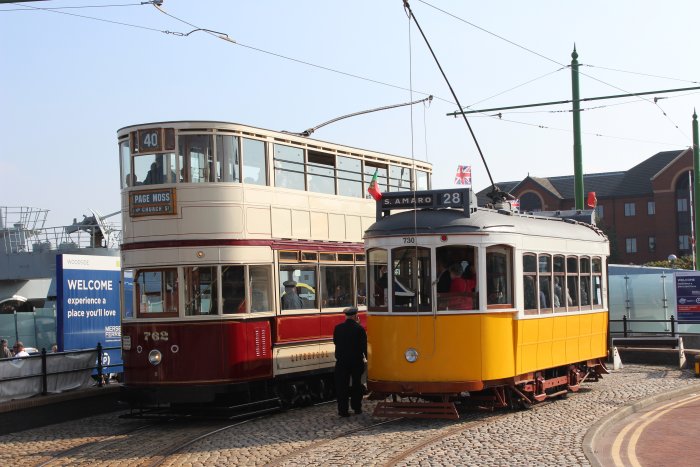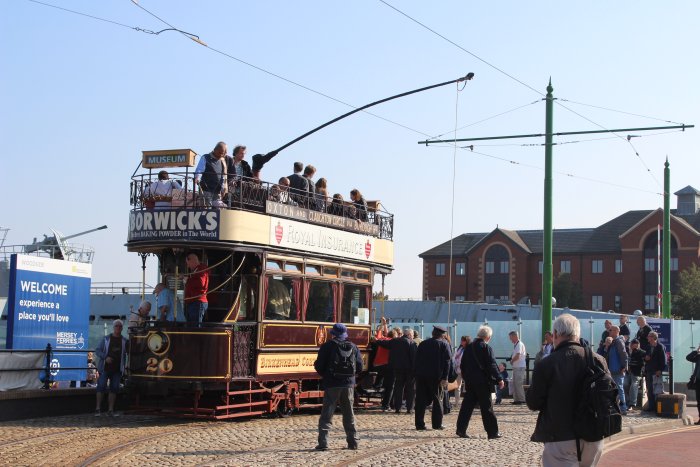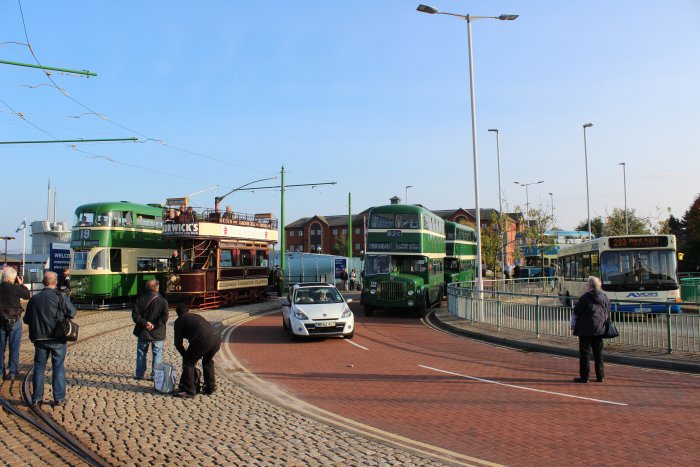 ---
Liverpool Tram 245
Saturday 12th September 2015 saw VIP guests and MTPS members with special tickets congregate at Wirral Transport Museum for the historic and long awaited launch of Liverpool Baby Grand 245. The Lord Mayor of Birkenhead and senior members of Wirral Borough Council, Senior members of National Museums Liverpool and Heritage Lottery Fund along with Terry Martin, MTPS Chairman all made passionate speeches about the partnership between all the groups that were involved in the restoration of Liverpool 245. National Museums Liverpool provided a buffet for all the invited guests and even had a cake made with a ptcture of 245 on it.
Liverpool 245 exited the museum driving through a banner bearing her car number where she was parked on the curve opposite to receive her first paying passengers in almost 58 years. Two inaugural runs were carried out, such were the numbers purchasing a special ticket.

Car 245 was escorted on the return journey by Wallasey car 78 with a brass band playing on the top deck to mark such a special occassion. Once the special runs had been completed 245 began carrying members of the public who not only rode the last surviving Baby Grand in the UK, they also received a genuine "last tram" ticket from 1958.
Sunday 13th September saw 245 carrying passengers as part of the heritage fleet of tram cars at Wirral Transport Museum. Passenger numbers on this day were very high.
The partnership between the MTPS, Wirral Borough Council and National Museums Liverpool made this restoration possible. 245 arrived in May 2006 for a feasibility study to assess the likely costs involved in this restoration. Once this had been done a successful application was made to the Heritage Lottery Fund by National Museums Liverpool which, with further funding from NML and donations from MTPS members, enabled the restoration to commence. Taking over nine years to complete by the volunteers of the MTPS Liverpool 245 is in service once again.
Our very grateful thanks to Ellesmere Port Concert Brass for providing the music on Car 78. More information about Band on a Tram here
---
Ron Martin, MTPS Treasurer is shown below feeling very proud. His Crosville bus having won First prize in the Custom / Special Interest Vehicle category at the Frodsham & Helsby Rotary Club Charity Motor Show 2015. We would like to congratulate Ron & his partners on a fine win.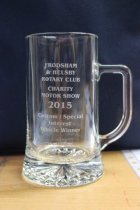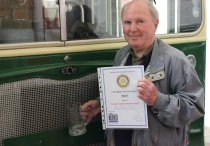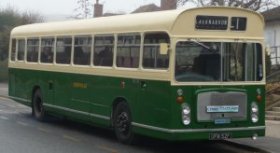 The winners tankard, Ron Martin with certificate & The Winner
---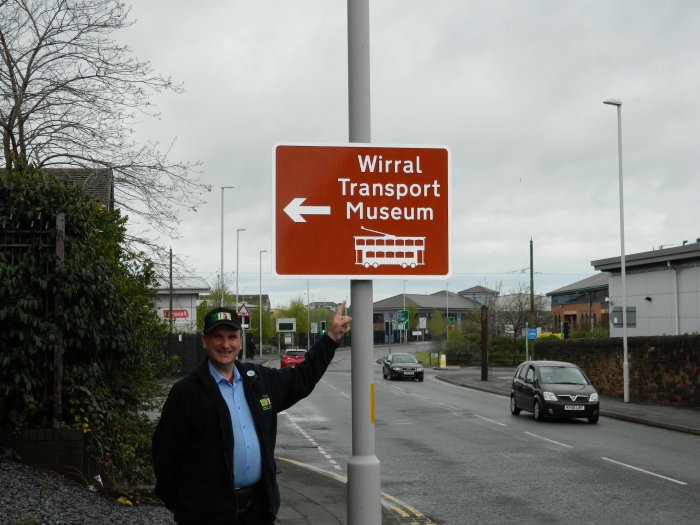 Dave Corey stands alongside one of the four newly erected brown tourist signs. Two have been erected on Canning Street and two on Cleveland Street, Birkenhead.
---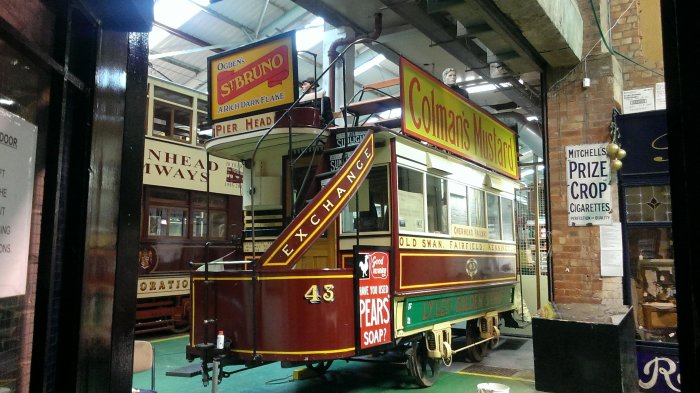 Liverpool Horse car 43 made the journey from Pacific Road to Taylor Street on Friday 6th March. Pacific Road is undergoing building work to accommodate it's new tenants,
Wirral Chamber of Commerce.
Horse car 43 has been moved to prevent any damage to the car during these works and will return when works are completed.
---
Teddy Bear Day
On Saturday 21st February we held our Teddy Bear Day. All children that brought their teddy bears to Wirral Transport Museum were invited to take part in our Teddy Bear Treasure hunt.
All the completed entry forms were put into the prize draw box to win a large tin of sweets

from which our winner was chosen at random
And the winner is...
Melanie Semerad of Storeton
Congratulations!
---
Bill Stock
1930 - 2015
It is with regret that we announce the death of MTPS stalwart Bill Stock. Bill will known by many who observed the work on 245 in the last few years, he was bespectacled, with denim overalls and a flast cap.
Bill was acraftsman and worked all his life as a joiner. Those that remember seeing Bill's tools will recall, every auger bit going up in size in 1/8th's from "very small" to "very large", held in a canvas slotted pouch, and he had cabinet makers slotted screwdrivers going up in every size, the right screwdriver for the right sized screw. Likewise his chisels, he'd had most of his life and were nearly worn down to a stub, but still extremely sharp.

After National Service and seven years in the reserve, Bill seemed to enjoy his time in the Royal; Engineers. He told me about the staging that they had made for the coronation, and then being sent home on leave for the actual Coronation service, due to lack of accommodation! Which didn't worry Bill at all. Another task Bill and his colleagues were involved with, was the flood defence work during the great floods on the East Coast in 1953.
Bill was a season ticket holder at Everton from 1956, and had it right to the end. He used to joke that he wasn't going renew it, but each year they would make an offer he couldn't refuse if he renewed it early! he never failed to be caught by the offer. He also joked that he had the season ticket longer than his marriage to his beloved Doreen.

On leaving the Army Bill worked for a number of companies including British ENKA, who made synthetic yarn. He then moved to the Dock Board as it was known. He worked in most of the workshops:- North, Central and South. I remember him describing a giant curved planing machine for planing dock gates, which was at the South workshops. From 1981 he moved to the Dock office building, or Dock Board Building that we know at the Pier Head. It was at this place he worked in maintenance until his retirement in 1994.
Fron the late 1980's Bill helped Stan Heaton at Steamport Southport to restore Stockport 5, when that was done he helped me restore Wolverhampton 23. From there he came to Pacific Road Tramshed and threw himself into the Tuesday working parties with Rick Stansfield and work shot ahead on Wallasey 78.
Then when MTPS moved up to Taylor Street about 2002 he moved up and helped here. With the arrival of 245 he and Dave Webster bore the brunt of the difficult joinery work.
Bill leaves a widow, Doreen, son and daughter, Jeff and Shirley and Grandchildren anf Great Grandchildren, Craig, Steven, Liam, Bethany and Isabell.
Bill died from heart problems and MTPS members attended the funeral on 5th February.

We have lost one of the greats.
Rob Jones
---
HOME